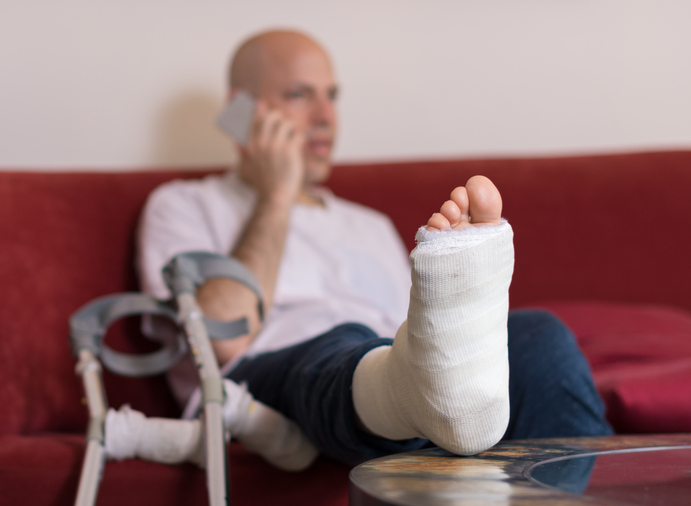 MANAGEMENT & PHYSIOTHERAPY
March & April are generally busy times for physiotherapists, especially given the harsh winter we have had here in Montreal! Falls can cause orthopedic injuries including sprains, strains, and fractures. This post focuses on fractures: their management and what the rehabilitation process is like.
A fracture is a broken bone. These breaks can happen in a number of different ways and a bone can be completely or partially fractured. There are several factors which impact whether a fall results in a fracture. Firstly, the force of a fall plays an important role in whether or not the person will break a bone. It can depend on the angle of the fall and also the height the fall occurs at. Secondly, bone fragility has a major implication in the occurrence of fractures. People with osteoporosis and osteopenia (thinning of bones) are more at risk for fractures. In fact, sometimes broken bones are the telling sign of osteoporosis and can prompt further medical investigations.
Fractures due to falls most commonly occur in the hip (upper femur), proximal humerus (upper arm), and wrist. Though they may vary in severity there is usually a significant reduction in one's independence and ability to manage activities of their daily lives. Hip fractures are particularly devastating, associated with a 1-year mortality rate of 21%.
Fractures can be managed either operatively or non-operatively. The rehabilitation process is variable dependent on the type of management the patient receives. Generally, there are restrictions post operatively which may restrict movement and weight bearing on the effected limb. With fractures that are managed conservatively, there is usually a period of immobilization (4-6 weeks) in order to allow for the bone healing to occur and the swelling to decrease. Following cast removal physiotherapy usually begins.
Physiotherapy can post-fracture with the following interventions:
Modalities to decrease swelling & pain

Education to teach you comfortable positions, ways to minimize pain, and alternate ways to perform your every activities

Perform gait, transfer and stair training to be sure you are using mobility devices correctly

Range of motion exercises to increase your mobilty

Manual therapy techniques to decrease stiffness and increase mobility

Strengthening exercises to decrease muscle weakness

Functional training in order for you to get back to your normal activities
DO HAVE A FRIEND OR FAMILY MEMBER WITH A RECENT FRACTURE THAT MAY BENEFIT FROM PHYSIOTHERAPY?
CALL US TODAY TO SPEAK WITH A PHYSIOTHERAPIST ABOUT YOUR SITUATION!